Community News & Devblog
Patch notes, tournament announcements, community spotlights and more
---
Posted 2 years ago on September 11th 2019 by Wise Old Dog
Hosted by: keyser
The next edition to the Shared Army Tournament is here! Take part in a solo or cooperative effort as teams of up to three players control a single army with a single ACU, using the "Shared Army" mod.
Sign ups: On the forum linked below.
Requirements:
…
Posted 2 years ago on September 2nd 2019 by Wise Old Dog
Hosted by: Rowey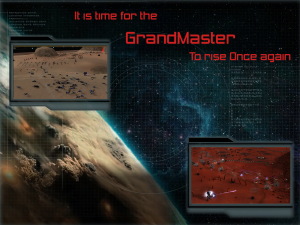 To sign up: https://docs.google.com/forms/d/e/1FAIpQLSeyuDp399peDFeZ8rGTo-saxmz_EJxKsc8gY29OcAdcPi8vRg/viewform
The third season for the Grand Master Cup is here! Take your chances in a 32 player match up in the Qualifying
…
Posted 3 years ago on August 19th 2018 by JJs_AI
Master & Apprentice
Global score will be the rating to go by in this tournament. Both players need to be with in the rating cap of 3300 Global points
Master = O1500
Apprentice = U1300
Date : 1st Sep 3PM UTC
Prize:
1st : £10 Steam Code + 2v2 Ava
2nd : Faction Face Ava
3rd : Faction Logo Ava
TD:
…
Posted 3 years ago on July 26th 2018 by JJs_AI
The Galaxy Resistance Event will take place for a set duration of 8 weeks at a time with a 4 week grace period between. This will be very similar to ladder week but for a longer duration.
Season 1 
Start Date For Season 1: 10th Aug 2018 00:00am UTC
End Date For Season 1: 28th Sep 12:00pm UTC
Leade
…
Posted 3 years ago on July 20th 2018 by JJs_AI
You have to the of 1st of SEPTEMBER AEST Which will be the end of august if you don't live in Australia
Create a 10km map and submit the name here. The best authors will be awarded prizes.
1st Place: Tournament Winner Avatar (Or 2nd or 3rd Place Prize)
2nd Place: Factional Face Avatar (Or 3rd
…
Posted 3 years ago on July 8th 2018 by Exotic_Retard
This is a 1v1 tournament with no rating limit and Equilibrium balance mod.
Prizes:
First place: Fixed In Equilibrium Avatar
Second place: Faction Face Avatar
Third place: Faction Logo Avatar
Time: 14th of July, 16:00 UTC
How to Sign Up:
To sign up, post your name on the forum thread here:  http
…
Posted 3 years ago on June 29th 2018 by JJs_AI
Tournament for the 21st of July, 17:00 GMT
Hosted by keyser
This is a double elimination tournament with the latest version of "Shared army" mod enabled.
There is a rating cap. In order to balance a bit more the team the following principle apply :
-∞ – 1000 rating = 1poin
…
Showing page 1 of 14 pages.