Community News & Devblog
Patch notes, tournament announcements, community spotlights and more
---
Posted 7 days ago on August 7th 2018 by JJs_AI
Hello Commanders!
It's been quite some time since we had our last game patch.
If my memory doesn't trick me then the last one was probably last December actually.
Some of you may have noticed the lack of time that Icedreamer can spend on the FAF project and in order to not let everyone&
…
Posted 10 days ago on August 4th 2018 by JJs_AI
The rule changes below are not retroactive and are for the moment subject to change as we work towards improving and consolidating the rules. Keep in mind that lobby rules in essence apply not only to #aeolus but also to your in-game behavior. If you have any suggestions or concerns please contact
…
Posted 19 days ago on July 26th 2018 by JJs_AI
The Galaxy Resistance Event will take place for a set duration of 8 weeks at a time with a 4 week grace period between. This will be very similar to ladder week but for a longer duration.
Season 1 
Start Date For Season 1: 10th Aug 2018 00:00am UTC
End Date For Season 1: 28th Sep 12:00pm UTC
Leade
…
Posted 20 days ago on July 25th 2018 by Brutus5000
Dear commanders,
following our regular calendar schedule, next monday we will perform the next server update. So FAF will face a partial outage. Due to constraints with our real-life jobs the update will probably fall into a timeframe between 18.00-20.00 CEST.
– Brutus5000
!-->!-->
Posted 21 days ago on July 24th 2018 by JJs_AI
Greetings all,
We'll have another conference this coming Sunday, July 29th, at 1700 GMT +0 (UK). This is 1200 for Eastern USA, 0900 for California, circa 1800 for central Europe, and night/late night for Russia & the east (really early morning for aussies).
At the conference, we will disc
…
Posted 25 days ago on July 20th 2018 by JJs_AI
You have to the of 1st of SEPTEMBER AEST Which will be the end of august if you don't live in Australia
Create a 10km map and submit the name here. The best authors will be awarded prizes.
1st Place: Tournament Winner Avatar (Or 2nd or 3rd Place Prize)
2nd Place: Factional Face Avatar (Or 3rd
…
Posted a month ago on July 15th 2018 by JJs_AI
Greetings Commanders,
RaqSam has opened up a French FAF server for our users. If you're interested in joining, you can do so by using this invite: https://discord.gg/G7Kh5aW
The rules of their discord are the same as our official server, and they have a channel set up that is linked to the French c
…
Posted a month ago on July 8th 2018 by Exotic_Retard
This is a 1v1 tournament with no rating limit and Equilibrium balance mod.
Prizes:
First place: Fixed In Equilibrium Avatar
Second place: Faction Face Avatar
Third place: Faction Logo Avatar
Time: 14th of July, 16:00 UTC
How to Sign Up:
To sign up, post your name on the forum thread here:  http
…
Posted a month ago on July 1st 2018 by JJs_AI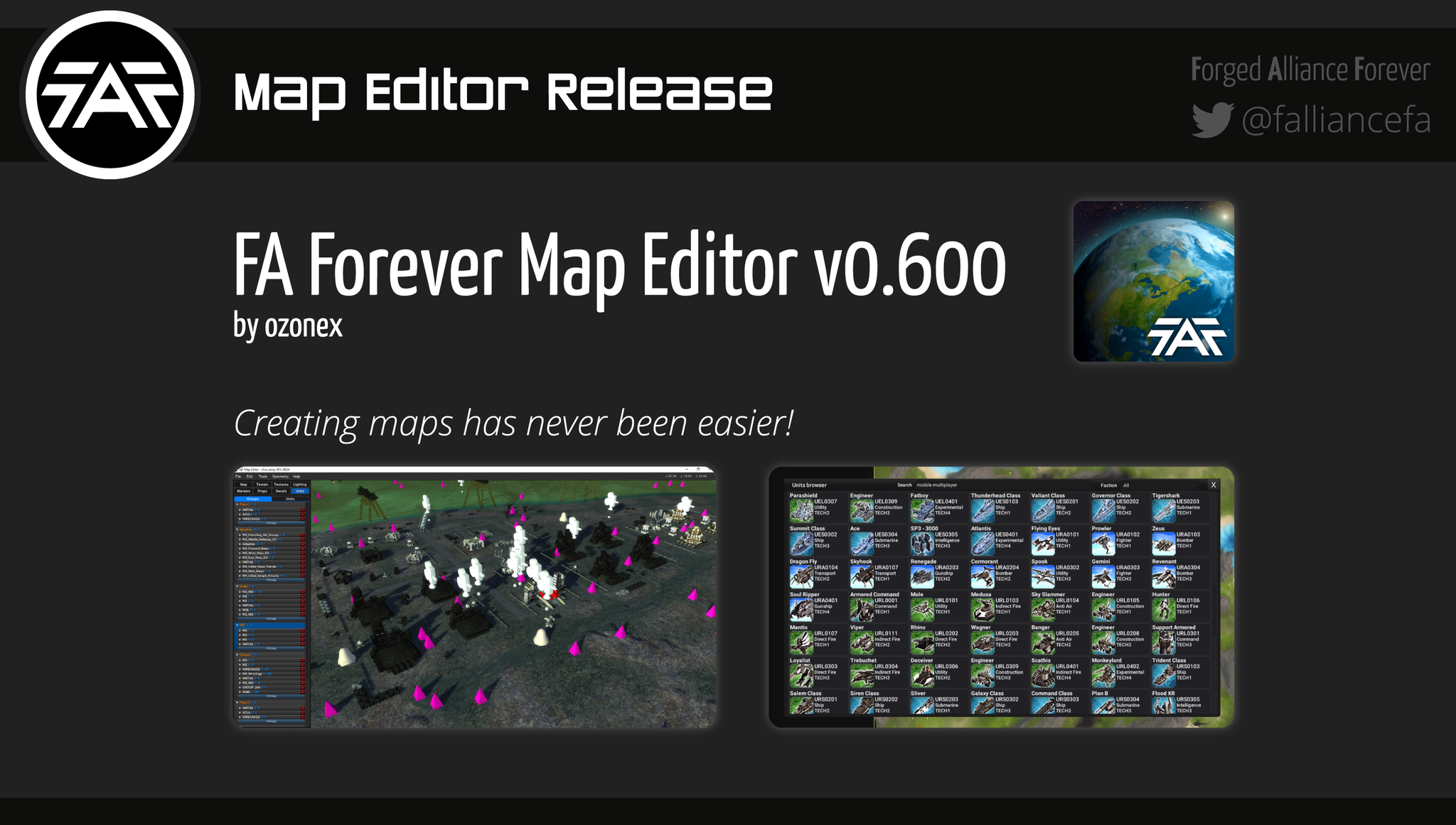 FA Forever Map Editor v0.600 has been released. This is first of new v0.6xx series. Creating maps has never been easier!
Units are now in map editor!

Works with all versions of Supreme Commander, Forget Alliance and FAF

Support FAF game updates

Much more stable

Many useful tools that don't
…
Showing page 1 of 60 pages.